Film (and food) fans, rejoice! Alamo Drafthouse, the innovative Texas movie theater chain, has finally opened its first outpost in New York City.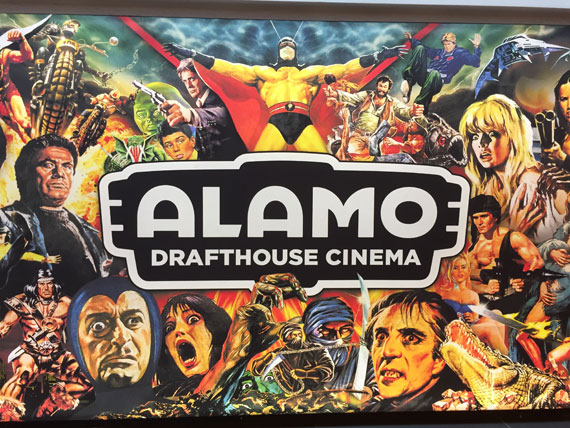 Located in City Point, a robust new shopping mecca emerging in downtown Brooklyn, the seven-screen house offers in-theater dining with a wide range of comfort food, creative cocktails and, of course, popcorn. Before or after the movie, stop in and get your fright-night on at House of Wax, a creepy-yet-elegant bar/museum that "combines mixology with the macabre."
One of Alamo's signature—and most appreciated!—quirks is that they are famously intolerant of rude moviegoers. (Silent cheer!) So much so that they regularly create in-house public service announcements letting you know that if you talk or text during the movie, or are otherwise disruptive in any way, you will be asked to leave.
"Our commitment to the sanctity of the moviegoing experience, to honoring the hard work and vision of filmmakers with a reverent screening environment, and to having just plain good manners in the public space is unwavering," says Alamo Drafthouse CEO and Founder Tim League. "It has been since the very beginning. Yes, we take the policy very seriously, but we love to have fun bringing the message home in unexpected ways."
In honor of the Brooklyn opening, Alamo this week released three new PSAs, featuring some familiar New York faces. Watch, enjoy, and take their messages to heart.
---
Comedian Janeane Garofalo presents an epic case against bad moviegoing behavior that's best summed up in two words: Toilet Babies.
---
Writer/director/star Mike Birbiglia and his Don't Think Twice castmates—including Gillian Jacobs and Keegan-Michael Key—share a special message about not talking, texting or slurping in the theater.
---
Ben Sinclair and Katja Blichfield, the creators of High Maintenance, have a sticky-icky message for you.
Tickets are on sale now. See you at the movies!
---
Note: This piece first appeared on The Huffington Post.