Kristin McCracken
Social Media & Content Strategist
Building a broad, dynamic, engaged community around your project is the goal of any marketing plan, and social media should represent a healthy percentage of your efforts. But the work can be time-intensive, and many people who set out to manage it themselves quickly become overwhelmed. (Especially when they are also trying to finish their film, find a distributor, run a film festival, etc.)
Because the platforms are constantly changing, no one knows everything there is to know about social media. But I have spent the last nine years digging in and figuring out best practices. My strategies and expertise continue to evolve as old platforms change and new ones emerge.
From 2008-2012, I headed up digital media at Tribeca Enterprises, the parent company of the Tribeca Film Festival. I ran the award-winning website year-round, including content and operations (and all digital initiatives), and also built and developed Tribeca's presence on social media platforms. I worked closely with the press, marketing, and sponsorship departments, seamlessly integrating their initiatives with company profiles.
Under my direction, TribecaFilm.com won two consecutive Webby Awards for Best Event Website (2011 and 2012), with an additional nomination in 2010.
Since leaving Tribeca in 2012, I've worked with individual films and festivals on social media and content strategy.
Year-round, I manage social media and content strategy for the Hamptons International Film Festival (and I work with others seasonally), and I manage the ongoing Provincetown Film Society & Festival and Science on Screen social media platforms.
Select film clients have included Oscar® nominee Joe's Violin, Oscar winner Twenty Feet From Stardom, the 2020 sleeper hit The Assistant, The Armor of Light, Sembene!, The Witness, Running Wild: The Life of Dayton O. Hyde, and Running From Crazy, among others. Check out my full list of clients here.
On a case-by-case basis, I offer customized online training sessions for filmmakers, production teams, film organizations, and distributors.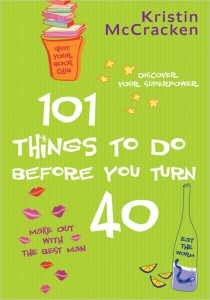 I have interviewed German film stars for the KINO! Chats series via KINO! Germany Now. I have contributed filmmaker and talent interviews to The Playlist and The Huffington Post. I also interviewed directors for the Hamptons International Film Festival.
In addition, I wrote 10 books between 2000 and 2005. Scholastic published nine celebrity biographies for children.
And in 2005, Penguin published my first book for adults, entitled 101 Things to do Before You Turn 40. (I only completed about 2/3 of them. I wish you better luck!)
I majored in English at the University of Virginia, and completed graduate work in higher education administration at NYU. I live in Brooklyn with my husband Jim Waterhouse ('McCrackHouse' is our 'Brangelina'). He is a talented modelmaker who luges (!).