Note: This post originally appeared on The Huffington Post.
With only two categories rewarding documentary filmmaking at the annual Academy Awards, the nonfiction film community realized it had a void to fill in recognizing the outstanding work in their field, often done behind the scenes. In late 2007, the Cinema Eye Honors were founded to rectify the situation. Since then, Cinema Eye has developed into a New York tradition, and it's grown up a bit along the way. As Legacy Award winner Chris Hegedus explains, "Unlike the Oscars, [Cinema Eye Honors] really shines a light on all the different areas of documentary filmmaking, just like the Oscars does for fiction filmmakers. And that's really important."
In addition to the Outstanding Feature category, the Cinema Eye Honors also acknowledged superior work in editing, score, cinematography, producing, direction, and graphics/animation. They also singled out filmmakers working in short form, a group of debut features (with an eye toward the future of the craft), four under-recognized films, and narrative filmmakers with a nonfiction bent.
A dozen awards were given out on January 9 at the 6th Annual Cinema Eye Honors, held for the third year at the American Museum of the Moving Image, to which co-chair AJ Schnack referred as a "beautiful… temple for motion pictures."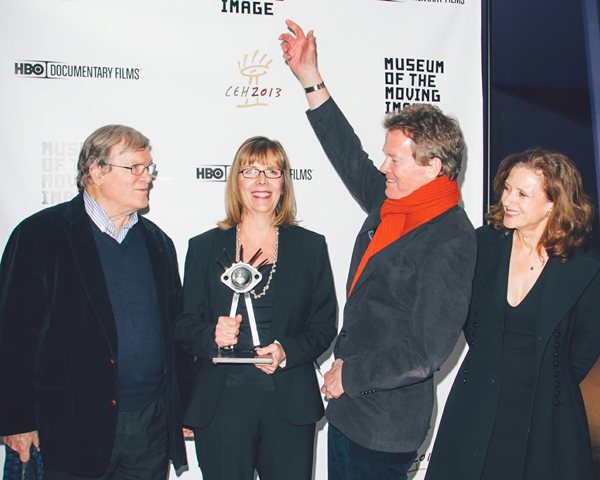 D. A. Pennebaker, Chris Hegedus, Frazer Pennebaker, Wendy Ettinger / credit: Deneka Peniston
With their Legacy Award, sponsored by Hot Docs, Cinema Eye Honors recognized the immutable contributions of D. A. Pennebaker and Chris Hegedus by honoring their 1992 masterpiece, The War Room, produced by Frazer Pennebaker, R. J. Cutler, and Wendy Ettinger. In addition to elevating the "don't-I-know-you?" quotient of strategists James Carville and George Stephanopoulos, The War Room quickly became the new standard-bearer for the political doc, perhaps even relegating it to a thing of the past.
As presenter Michael Moore explained:
No film like this has been made since. No presidential candidate — winner or lose — has allowed a documentary filmmaker inside… After [The War Room], they got wise. They figured out, 'Instead of having somebody else do it, we'll do it, and we'll control the message.' [And with social media], they figured, 'We don't need the documentary filmmaker in our way anymore.' Which is too bad.

The War Room really stands as a seminal film, and perhaps the last of its kind. It also reached outside the documentary viewing audience and brought people into the movie theaters to see a documentary film, which as we know is a difficult thing to make happen.
The other top honors of the night went to three films:
The groundbreaking Palestinian documentary 5 Broken Cameras (which was also nominated for an Oscar® on Thursday), directed by Emad Burnat and Guy Davidi, was recognized for Outstanding Achievement in Nonfiction Feature Filmmaking. In accepting the award on the filmmakers' behalf, Michael Moore called the film "one of the most beautiful, artistic pieces of cinema that I've seen in many years… When you walk out [of this film], you are not the same person. Things you thought were true, things you believed in, things you maybe hoped for all get turned on their heads."
Rachel Grady, Heidi Ewing / credit: Deneka Peniston
Directors Rachel Grady and Heidi Ewing (Oscar® nominees for Jesus Camp) were awarded Outstanding Achievement in Direction for Detropia, their lyrical paean to a rebounding Detroit.
In presenting the directing award, two-time Oscar® nominee Marshall Curry remarked on the fact that people always mention to him how "lucky" documentary filmmakers must be, in their ability to find the right moment to capture on film.
Most people don't realize that there are people who help to make some of that luck happen. [They] don't realize that someone spent sometimes hundreds of hours shooting and hoping that something might happen, skipping meals and working late because they know that as soon as they put their camera away, the magic is going to happen.
And the Audience Choice Prize — voted on by 4,500 online voters — went to Bully, directed by Lee Hirsch. Hirsch acknowledged his release campaign team for their work in reaching such a broad audience: "With their help, we've been able to bring over 250,000 kids across America to the theater to see our film."
Other winners included:
Outstanding Achievement in a Debut Feature Film
Only the Young
Jason Tippet and Elizabeth Mims
Outstanding Achievement in Graphic Design or Animation
Searching for Sugar Man
Oskar Gullstrand and Arvid Steen
Outstanding Achievement in Nonfiction Short Filmmaking
Good Bye Mandima (Kwa Heri Mandima)
Robert-Jan Lacombe
Outstanding Achievement in Original Music Score
Detropia
Dial.81
Spotlight Award (given to a documentary with limited exposure)
Argentinian Lesson
Wojciech Staroń
Outstanding Achievement in Cinematography
Chasing Ice
Jeffrey Orlowski
Heterodox Award (sponsored by Filmmaker Magazine, this award recognizes work that employs documentary techniques in narrative filmmaking)
Museum Hours
Jem Cohen
Outstanding Achievement in Editing
How to Survive a Plague
T. Woody Richman and Tyler H. Walk
Outstanding Achievement in Production
The Imposter
Dimitri Doganis
Esther Robinson, Michael Moore, AJ Schnack / credit: Deneka Peniston
Co-chair Esther Robinson summed up the commitment and inspired passion of the community gathered for the event:
Every day we get up and we make something from nothing… We put something in this world that is beautiful, that has meaning, that is important… and that changes the world for the better. This is no small thing.
Learn more about the Cinema Eye Honors.