With a few rare exceptions (The Diary of a Teenage Girl is the latest example that comes to mind), the intricacies of the developing sexuality of girls and women has been gratuitously simplified on screen, often by male directors with an innately outsider perspective. That's part of the reason it's so refreshing to see writer/director Marya Cohn's new film The Girl in the Book tackle these complexities head-on—she handles sensitive scenes with tact and pragmatism, and delves deeply into the lasting effects of adolescent sexual abuse.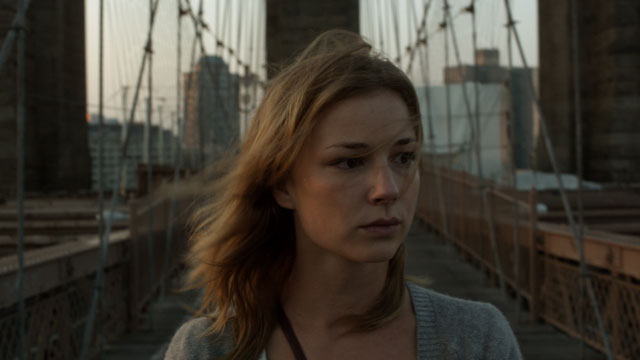 Twenty-nine-year-old Alice (Emily VanCamp, "Revenge") is an aspiring book editor (and lapsed writer, for reasons we come to understand) whose nights are filled with empty and reckless sexual encounters. As she tries to trade in her one-night-stands for a potential new boyfriend (David Call, Tiny Furniture) she gets a work assignment that puts her into contact with Milan Daneker (Michael Nyqvist, The Girl with the Dragon Tattoo), a contemporary of her father who abused her trust, openness and burgeoning sexuality when she was a teenager.
The story of Milan's betrayal unfolds in flashbacks, where we see a young and talented Alice (Ana Mulvoy-Ten) come under his sway, which roots in Alice the humiliation and deep-seated damage that remains today. When it's clear that present-day Milan feels zero culpability, VanCamp's Alice spirals out of control.
Alice (both then and now) is a fully-fledged character with whom a (sadly) high percentage of women will identify. Until she confronts her demons, Alice can't get out of her own way; her past affects her relationships with her dysfunctional parents (Michael Cristofer and Talia Balsam), with her supportive and funny best friend (Ali Ahn), with any potential new lover…
Cohn is a terrific new filmmaker; it's hard to believe The Girl in the Book is her feature debut. We caught up with her in New York on the eve of the film's release to discuss the film's impetus, her fantastic cast, and what she hopes the audience takes away.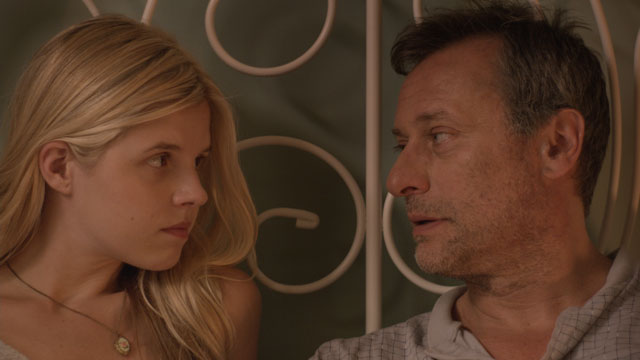 The Girl in the Book explores some dark issues of female sexuality that are not often (enough or well) addressed on film. As the writer/director, what led you to tell this particular story?
Marya Cohn: The germ was an incident from my past—but it took on more urgency over time as I realized how many women have had similar experiences. Eventually, I just felt it was something I had to write.
I appreciate that you made Alice a complex woman with a full life—she has supportive friends (up to a reasonable point), a cringe-worthily destructive family we can all recognize, a complicated yet unsatisfying career. Was that crucial to your writing process? How did she develop in your mind?
Marya Cohn: Making Alice a full human being was very important to me. I think that's of paramount importance when there are so many two-dimensional female characters on screen. I think female writers can probably do that more easily because they know that their own lives are actually complex. I wrote many drafts, so I could add layers to the character with each pass.
Though some scenes are admittedly tough to watch, your film handles sensitive material beautifully. Was it difficult to strike just the right balance?
Marya Cohn: I'm really happy to hear that you think it's the right balance. I was definitely aware of that challenge and constantly worried that I wasn't finding it. I thought about it while writing and on the set. Good actors help—but then they help everything.
How did you work with your actors in filming those delicate scenes? I understand the actress who plays young Alice (Ana Mulvoy-Ten) was actually much older than the character she plays. Did that allow you a bit of leeway?
Marya Cohn: Yes Ana's age helped. I might have had some long sensitive discussions about it, given my temperament, but Michael and Ana preferred to deflect with humor. They were constantly joking with each other on set. Trevor, the DP and I, acted as stand-ins during a couple of rehearsals of the hardest scenes to make the actors more comfortable. I think Ana felt free to speak up if anything felt too much to her.
Audiences will recognize Emily VanCamp from her television roles on Revenge, Brothers and Sisters, and Everwood. She's luminous and perfectly vulnerable in this role. What made you know she was your Alice?
Marya Cohn: Emily really responded to the material, which is always a good sign that it may be a match. I watched a lot of her work and saw her emotional honesty in the dramatic scenes in Brothers and Sisters and Everwood, so I knew she had that ability.
Michael Nyqvist is best known as the male lead in the Swedish versions of the Girl With the Dragon Tattoo films. How did you connect with him? He's a striking and magnetic figure, but I'm not sure I'll ever look at him the same…
Marya Cohn: I was watching films on Netflix looking for actors, and I saw a Swedish movie called As it is in Heaven and just thought, "That's my Milan." The casting director sent him a script, he read it and said yes, and eventually he showed up on set. It was kind of magic.
It was important to me that Milan be more than a bad guy and that the audience experience his magnetism they way Alice does. I found that in Michael. It was a difficult role for him because he has a daughter, and he was scared of it all the time—except when he was playing it. He's that good an actor.
You live in New York, and in your film the city shines through as an at times benevolent, sometimes treacherous place for a young woman to make her way in the world. How did you weave the city into your script?
Marya Cohn: New York is my hometown, so I know it well and it's the setting for many of my stories. I sometimes thought of this script as Manhattan from the young girl's point of view, so I tried to use the city the way Woody Allen does.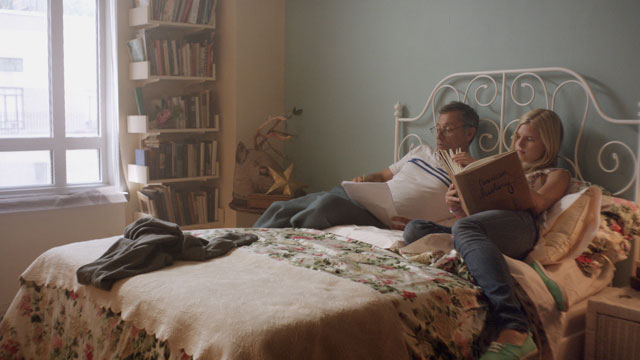 The Girl in the Book is your feature debut. Now that you are on the other side, was it tougher or easier than you imagined? What's one piece of advice you have for aspiring filmmakers?
Marya Cohn: It was really hard for a long time and then, once it was in motion, it was easier than I thought—a ball that just kept rolling faster and faster no matter what. I'd say get the ball rolling. Once you feel confident in your script, just decide you're going to make it, say that out loud, and somehow you will. I have to say my producer Gina [Resnick] just kind of did that. Her courage got us on our way.
What do you want audiences to take away from your film?
Marya Cohn: I'm hoping that experiencing Alice's journey will spur people to talk about how there is still an unhealthy nexus of sex, power, and gender in America (and elsewhere). My daughter is turning twelve the day after the film is released, and I feel terrible that she's becoming a woman in a culture where there is still a high likelihood that she will experience some form of sexual assault at some point. I really hope that our culture will change by the time my daughter's daughter is twelve. And acknowledging the problem is a good start.
Is there a conversation you hope they will have on the way home from the theater?
Marya Cohn: I hope people talk about how you can heal from a damaging past. I think telling your story—saying, "This is what happened"—is a very empowering first step, which is part of why I made the movie. I hope it inspires others to do the same.
The Girl in the Book opens in select theaters and debuts on nationwide VOD platforms on Friday, December 11. Follow the film on Facebook and Twitter for details.
Note: This article was first published on The Huffington Post.