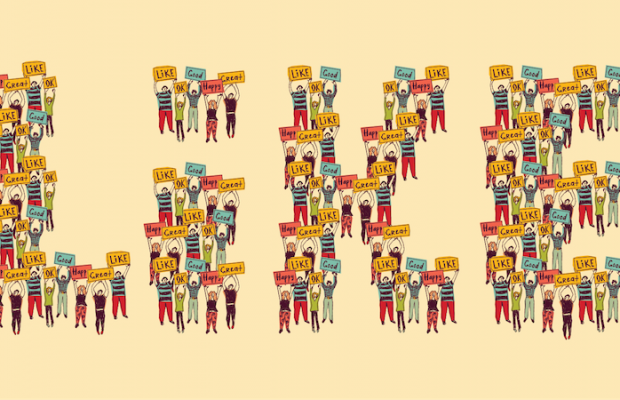 Keeping up with your crazy cousins, reconnecting with your high-school crush, maybe even documenting your every meal—you use social media in your everyday life. Yet developing platforms for your film is a different story.
If your budget is small, social media should represent a healthy percentage of your film promotion efforts. Platforms are still free (snazzy websites are not), and if you play your cards right, you will expand your reach beyond friends and family, connecting with the right affinity groups and dedicated film fans.
Have you begun work on your film? Do you have a title? Now is the time to start building a community that will someday turn into an audience.
The Platforms
First, let's run through the major platforms. Be realistic about your potential audience demographic, and then follow your nose. Fish where the fish are. Facebook and YouTube are musts; Twitter and Instagram are the next tier.
Facebook is the behemoth, encompassing the general public and fans of all ages. This is the place to build a lasting community around your film, one that will evolve while the film makes its way through the distribution windows and beyond.
Set-Up: To create a fan page for your film, you must already be on Facebook as yourself—no way around it. Add colleagues as "admins" on your film's page, though make sure you trust them to represent the film. You can schedule some posts ahead of time directly into Facebook—click the "Publish" dropdown menu and select "Schedule."
What: Upload photos and share videos. Promote festival premieres, theatrical screenings and VOD releases. Give peeks behind the scenes from your production process. Share links about the cast, crew, and relevant issues in the film. Connect with potential fans by asking questions and responding to their comments. Shares > comments > likes.
Note: A @handle is a specific person's account. With it, you are talking about or to a specific entity. Meanwhile, a #hashtag is a topic: #Oscars. By using a #hashtag, you automatically join in the conversation; anyone can see your post if they are following the #hashtag, even if they don't follow you.
When: If you are still in production, you don't need to post more than a few times per week, and only if you have good content to share. As your premiere nears, post once a day, and even more frequently if you have lots of good content. As a rule of thumb, never post more than three times a day.
Time Commitment: A strategic user could schedule posts for the week over the course of one morning. Leave room for posts that arise during the week, though.
Good Examples: Iris and Under the Skin make the most of beautiful memes that are provocative, fun and reflective of the films. Everything these film pages post has style.
Sure, you're dazzled by Vimeo's shiny optics, but YouTube is the second-largest search engine out there, and it's fully integrated into Google—which, crucially, means your page will come up higher as a search result. Though your video output may not be daily (or even weekly), create a YouTube channel, using the film title or your production company name, where the video progression of your film—teaser, interview snippets, clips, trailer—can live and grow.
Set-Up: First, create a Gmail account for your film or production company. [Movietitle]@gmail.comworks, and you can always set it up to forward to your regular email. Use that to log into YouTube and create your channel.
What: Add playlists for your behind-the-scenes clips, teaser trailers, etc. You can also create a playlist of videos from other users that already exist on YouTube and are relevant to your film.
When: Space new videos out over time, and then share those videos out on your other platforms.
Time Commitment: If you have a bunch of clips to post, you can upload them all at once, but set them as "private," "releasing" one per week, or at whatever interval you've decided upon.
Good Examples: Aggregating all the films they release over time, IFC Films makes great use of playlists and metadata. Making Of is a master of taking film fans behind the scenes. Though these are large entities, they exemplify best practices on YouTube.
Gaining traction on Twitter can be intimidating; the feed is like a river, and with every tweet, you're dipping a toe in as everything rushes past you. Finding a following takes time and commitment. You need to tweet and interact a lot (as much as 10-20 times a day) to make headway.
Set-Up: Twitter @handles for films have an expiration date: Once the film's release life is over, the profile becomes mostly moot. Being a non-person on Twitter is also tough; people mostly like reading tweets from real people, with actual opinions and a personal POV. So instead of (or in addition to) your film's account, create a personal profile for yourself and use a #hashtag for your film. (Balance "short-and-sweet" with "recognizable" for the #hashtag.) As yourself, converse with the filmmaking community. You'll cultivate a career-long following that can grow over time, and your audience will not just be tied to one particular film.
What: Twitter works especially well for documentaries about issues that have passionate advocates; find those voices, follow them, and start a conversation. For narrative films, do your cast and crew have large followings? If so, have them use your @handle and/or #hashtag and give them copy-and-paste 140-character tweets to get your message out. Retweets > replies > favorites. Shorten hyperlinks using bitly.com, which tracks clicks (valuable insight on your fans).
When: As long as what you say is interesting, you can tweet anywhere from one to 50 times a day. Just don't tweet all at once. Use an app like Buffer or TweetDeck to schedule your posts.
Time Commitment: You can schedule foundation tweets (promotion, etc.) for the week in a morning. But check often for replies, retweets and notifications. Installing the app on your phone helps.
Good Examples: Check out Michael Moore on Twitter. In addition to promoting his films, he mixes in political commentary, news about independent movie theaters, and more.
Filmmakers are staking a modest claim on Instagram, which can be an ideal place to connect with a younger audience of teens and 20-somethings. If you know your potential audience is older, focus your energies elsewhere.
Set-Up: Create a film or production company account. Or use your own account to promote the film with a #hashtag (a la Twitter). Follow some films, filmmakers, studios and distribution companies and see what works.
What: Roll up your sleeves and create some dynamo graphics before you even create an account. You'll need a lot of them, and building a following will take time and consistent, frequent posting.
Because there is no one-click way to repost on Instagram as there is on other platforms, most organic discovery happens through #hashtags. Do your research and use them liberally (even if you find them déclassé). They can be keywords, cast names, topics of interest, locations, genres (#indiefilm) and more. When you type a #hashtag, Instagram will tell you how big that audience is, so you can tell which ones are worth using.
When: You can post five times a day on Instagram if you have lots of good images, but make sure to space them out at least an hour apart.
Time Commitment: Five minutes per post should suffice. Note, though, that since Instagram posts can't be scheduled, you need to post photos live.
Good Examples: Reed Morano promotes her work, but she also gets personal, with beautiful shots of her family. Lena Dunham is a master at giving fans a peek into her everyday life, and they love her for it.
Alternative Platforms
Tumblr can be a solid (free!) substitution for a webpage; Pinterest is another home for vibrant images; Snapchat is growing every day. But remember the cardinal rules—don't spread yourself too thin, and fish where the fish are. You'll probably only need to devote yourself to two or three platforms at most.
Rules of Engagement
Maintaining social media platforms for your film is not entirely different from running your own personal accounts, after all—you want people to think you are cool and interesting, and you want to provide value, something they can use.
It's ideal to keep the social in-house because your voice will be the most genuine, but there are specialists you can hire if you have the budget. Good ones will keep the voice authentic and not sound like a marketing agency. Depending on the experience level and intensity of the work, this can run $500-5,000 per month. Make sure your specialist provides training so you can eventually take the reins. He or she might tell you this…
Create a voice.
 Decide on a personality for your social media, similar to the tone of your film—serious, irreverent, etc. No matter what, you want to be informative, insightful, smart, and feedback-friendly. Never insult other films or filmmakers.
Pick one handle. Whenever possible, keep the account names consistent across platforms. (It's best to use the movie title without spaces.) If your title is a common phrase, add "Film" or "Movie" to the end (e.g. @RoomtheMovie).
Keep your visual identity consistent. Though your key art may change as you near distribution, you want to brand your film as soon as possible, so people start to recognize your project visually. Create an eye-catching title treatment that can be used as your profile picture across platforms, and pick a key cover photo image that represents your film.
Organize. Create an editorial calendar to plot your attack. Google Docs can be an ideal way to monitor key dates, schedule posts, track your goals and communicate with your team. You can also include columns for keywords, social logins, handles for your cast and crew, etc. Find a sample at http://bit.ly/SampleCalendar.
Brainstorm a list of keywords. Keywords (a.k.a. metadata or tags) are how search engines and other algorithms know what to show people who are combing the Internet. If someone enters the search term "pit bull rescue," and your film is about rescuing pit bulls, you want your film to show up. So make a list of all potential search terms now. (In addition to "pit bull rescue," your list would include "animal rescue," "dog rescue," "ASPCA," "Michael Vick," "animal shelter," "save pit bulls," etc.)
You will use this list all the time: when entering tags into your YouTube videos, when targeting ads in Facebook, when adding metadata to your website's backend, as #hashtags on Twitter and Instagram. You don't have to reinvent the wheel every time.
Be sociable. Factoring in your production team, your community should start with your already-established social circle. Ask the crew to share and promote with friends and family, and give them clear instructions (and copy-and-paste graphics, sample tweets and Facebook posts).
If someone replies to a post, sends a private message, or tags your film page, answer them back—even if they didn't ask a specific question. Just say hi, or thanks, or ask them how they heard about your film.
Acting as your film page on Facebook, "like" other pages. Follow Twitter #hashtags to know what people are saying about issues important to you and your film, and then retweet, reply and converse (but don't spam). If people like what you say, they will follow back.
Keep it fresh. Update your accounts, even if it's only once or twice a week. Space assets out. Repeating, "You're going to love my movie!" will get old fast. Instead, give fans something to latch on to. Set up Google alerts for your keywords and then share relevant news about the topic. Introduce the film's characters and what they have to say.
Use your team's strengths. If there's a great photographer on your team, task her with documenting the production. If someone is a snappy writer, have him write tweets. The Google doc is a good place to draft and refine posts; then have one person responsible for the actual posting.
Learn Photoshop. Pictures tend to get a good response on every platform (except YouTube). Memes (i.e. pictures superimposed with text) can be the best kind of shareable content. Choose stills from your film and superimpose quotes onto them. Introduce your team with photos and fun facts. Have the sound editor explain her job in a snappy sound bite.
Keep videos short. Under two minutes is best. Forty-five seconds, even better.
Give insider access. People who follow films and filmmakers are curious about how it's done. Give them a peek behind the curtain in photos or video clips. Show them the movie set, the editing room, the festival premiere.
Be meticulous. Everything you do on social can be seen, shared and judged. Take time with your text, avoid mistakes, and make sure your key art and shared photos are professional, hi-res, and provocative or beautiful.
Don't overthink. The flip side of the above holds true. Spending a day and a half vetting every post with your team is counter-productive. Get information out while it's still timely.
Don't set up automatic cross-posting. Instead, craft posts that make the most of each platform's strengths. Twitter is limited to 140 characters, but Facebook isn't. @Handles and #hashtags do not always travel well. Instagram photos on Twitter require an extra click to view. It's more work, but it pays off.
Experiment. You're a filmmaker! You have ideas! Try new things (a behind-the-scenes video blog? a pop quiz about your film? a confessional about your filmmaking fears?). Social media is fleeting—no matter how perfect it is, your tweet will probably be forgotten tomorrow, so if you screw up, try, try again.
A Facebook Ad Budget?
With even a small budget, you can use Facebook ads to drive new likes to your page. You can target your audience by geography, age, interests, gender and more. Think about what kind of budget you have and how long your promotional window is—one month? two years?—and do the math to come up with a monthly spend.
Start with $2/day budget to promote the page. Use your key image and a strong logline.
Strategically boosting selected posts increases your visibility when you need it most—e.g., when you want to tell the world you got into Sundance, boost the post for $5-10. You will see a huge increase in the post's reach.
During the month before a release, a $500-1,000 budget is ideal, to promote your page ($10-20/day) and boost your posts for $5-10 each, targeted to difference audiences.
Don't be bamboozled by how cheap and easy it can be to attract fans in other countries, a.k.a. "click farms" and bots. Spend your money on an authentic audience that makes sense for you. One hundred real fans beats a thousand fake ones who will never even look at your page again.
This article appears in MovieMaker's Complete Guide to Making Movies 2016.
Kristin McCracken is a professional social media and digital content strategist. For over four years, she led the digital media team at the Tribeca Film Festival, winning two Webby Awards for the website and creating a vibrant, year-round social media presence for the brand. She now consults with filmmakers, festivals and other organizations, enhancing their profiles through digital media and editorial content across platforms. Kristin occasionally contributes filmmaker interviews to select outlets (The Playlist, The Huffington Post). Her most recent book is entitled 101 Things to Do Before You Turn 40. Follow her at @kmc1213.