Charles Poekel's debut feature, screening this week at the 2015 Sundance Film Festival, offers a melancholic slice-of-life look at a Brooklyn neighborhood holiday staple: the open-24/7 Christmas tree stand.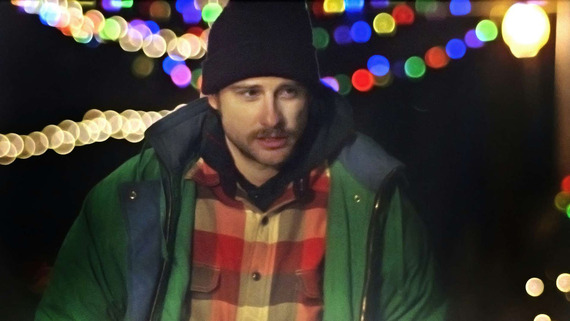 When you live in New York City, there are certain hallmarks that signify the beginning of the holiday season, chief among them the singular smell of the Christmas tree stands that pop up like clockwork every Thanksgiving. For the next four weeks, New Yorkers mostly take them for granted, but once in a while, you might cross the street just to inhale the evocative scent, reminiscent (if you're lucky) of childhood, family and warmth.
After 25 years in New York, however, I must admit I'd never stopped to think about the people who work these stands, in what must be a thankless seasonal gig that requires a sacrifice of one's own holiday for the public's nonchalant pleasure. Never, that is, until I saw Christmas, Again, Charles Poekel's debut feature film, borne of a perhaps unprecedented dedication to research. You see, Poekel was so intrigued by the way his Brooklyn neighborhood symbolically adopted the tree salesmen, bringing them hot coffee and the occasional muffin, that he opened his own tree stand in Greenpoint, Brooklyn, which he's been running now for five years.
In a Method-like attempt to develop a screenplay about the experience, Poekel wrote as he worked the stand, hired a staff and bought a trailer that serves as respite (and sometimes temporary housing) for the sales team year after year. And eventually he made his movie, incorporating actual local customers (and their tendencies) into the script. The result is a quietly vérité-ish study starring the fine young actors Kentucker Audley (Ain't Them Bodies Saints) and Hannah Gross (I Used to Be Darker) as a damaged and lonely pair who slowly find in each other the potential for redemption. It's a lovely film, with bright spots of happiness that give the characters (and the audience) something to yearn for.
After premiering at Festival del film Locarno, Christmas, Again had its North American launch this week at the 2015 Sundance Film Festival. (The film is also one of the initial selections of the 2015 New Directors/New Films slate in New York City this spring.) I caught up with the director and his two stars in Park City, where we talked about the top-notch production (with Sean Price Williams as DP and Robert Greene on editing duty), shooting on location in New York City, and the touching fragility of the main characters Noel and Lydia. These are definitely three to watch.