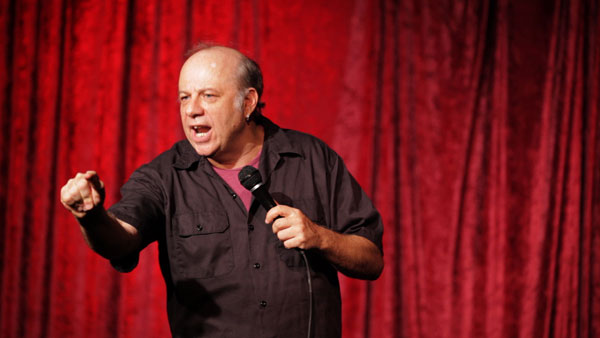 The Bitter Buddha, directed by first-time filmmaker Steven Feinartz, is an in-depth portrait of the life of comic Eddie Pepitone. Sometimes angry, frequently instrospective, and always funny, Pepitone is one of those comedians whose name doesn't immediately ring a bell, but once you see him, you go, "Oh, yeah, that guy."
Such is the life of a 30-year veteran of the comedy scene who has worked steadily (in movies such as Old School and countless TV sitcoms) but never "broken out" into the comedy big leagues. That might be changing, due to a combination of factors: Pepitone is a regular on various comedy podcasts, including his own, The Long Shot; he's got a solid following on Twitter; and he's become somewhat of a cult icon to younger comedians who have hit the mainstream — including Sarah Silverman, Patton Oswalt, and Zach Galifianakis — a number of whom appear in the film.
The Bitter Buddha premiered at the Just for Laughs Comedy Festival in Chicago last summer, and has since hit the festival circuit. When I caught up with Feinartz at Slamdance last month, a distribution deal with Gravitas Ventures had just been announced. The Bitter Buddha opens in select cities on Friday, February 15, with a nationwide VOD release to follow on February 19.
Read the full interview on The Huffington Post:
The Bitter Buddha: At 54, Comedian Eddie Pepitone Is Finally Ready for His Close-Up